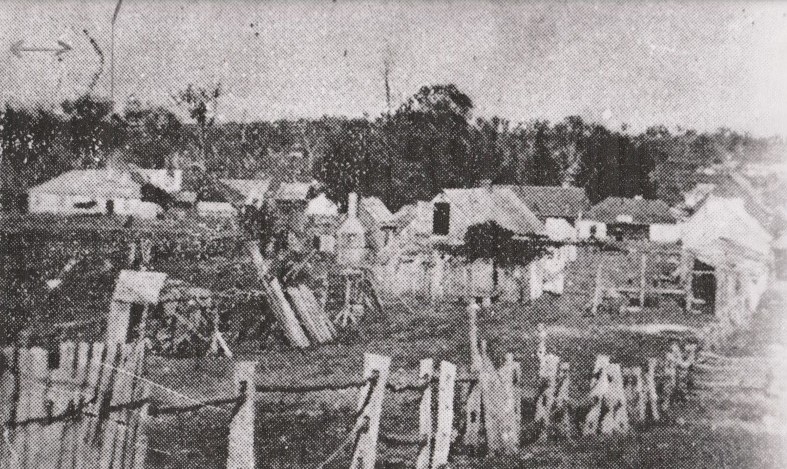 Tamworth's probably looking a bit better these days! This 1864 photo looks down on the 'CBD' from the corner of Marius and Bourke Streets.
These streets were named 15 years earlier by NSW Surveyor-General Sir Thomas Mitchell in his 1849 Town Plan – Marius Street after his Roman General hero and Bourke after NSW Governor Richard Bourke, one of the 5 Governors under which he served.
A major flood had hit Tamworth in February of 1864, when the population was around 700. West Tamworth had started to open up after the first AA Company land sales there from 1851. Our first newspaper, the weekly Tamworth Examiner, had started and there were 6 hotels in operation. One of these was the 'Travellers' Rest Inn', which can be seen in Peel Street in the top left-hand corner of the photo. It was situated on today's 'Cotton On' corner where the Peel/Brisbane Street traffic lights are now located. The first licensee from 1853 was George Bevege, succeeded by William Lawrence in 1858, becoming known locally as "Lawrence's" and as the 'Travellers' Home Inn'. A later licensee, James Goodyer, renamed it the 'Globe Hotel' in 1880. The hotel's central location made it a popular place for meetings and dinners.
Nearby to the 'Travellers' Rest Inn', at today's 312 Peel Street near the Central Hotel, was one of our first undertakers, William Turner, who took up residence around the time this photo was taken and continued in the undertaking business until his death in 1888. The saddler Thomas Badkin lived in the 1860's at today's 32 Bourke Street, with the Marius/Bourke Street corner, from which this photo was taken, known for many years as 'Badkin's Corner'.
Tamworth had significant population growth in the years after this photo was taken, following increasing land sales, and also partly due to declining gold finds further up the Peel River, with a number of goldminers taking up residence in our town.
Mike Cashman – Tamworth Historical Society