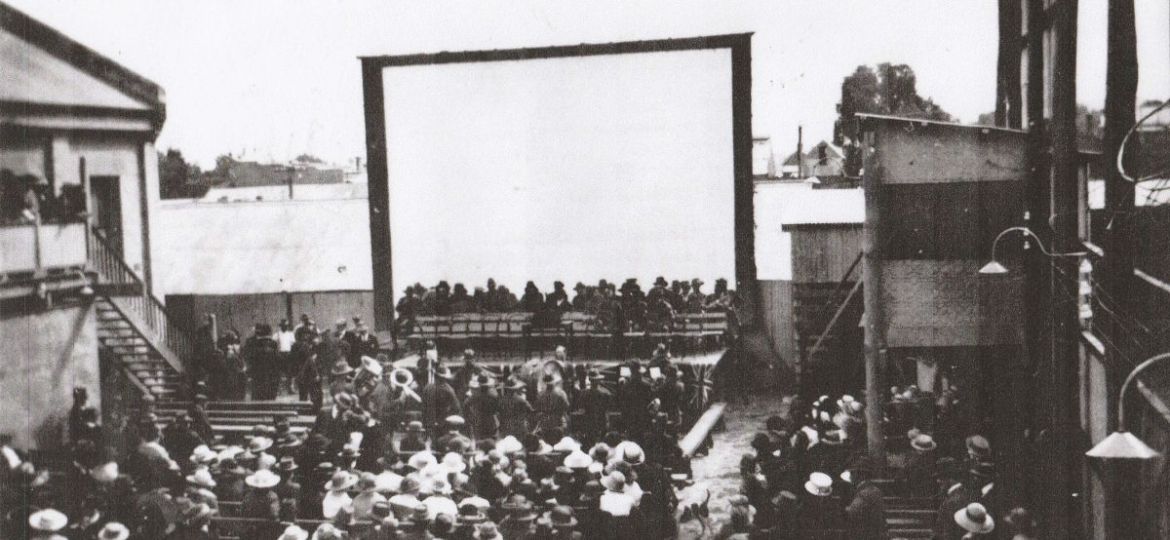 Been to the movies lately? We're spoilt here in Tamworth at present, having the wonderful Forum 6 facility. But if you're way over 100 years old, you might remember going to this Open-Air Theatre in Brisbane Street. In the age of silent movies, it was reputed to be the first theatre to have a complete change of program each evening. It was preceded a little earlier in Tamworth by Laurence Penn's theatre, originally just up from our present Town Hall site in Fitzroy Street, then relocated to the Brisbane/Marius Street corner where the Northern Daily Leader building was later built.
The opposition theatre pictured here was built by one of our leading entrepreneurs, Henry Charles ("Charlie") Ison, who was the Tamworth Mayor in 1901. Born in England, he came with his parents as a 3 year old to East Maitland, later becoming a baker at Muswellbrook and Narrabri before moving to Tamworth in 1870, where he opened a bakery/produce store in 1878 near the corner of today's Belmore & Bridge Streets, with more stores to follow in Peel Street. He continued to expand his business interests with the Family Hotel in West Tamworth, then building the Central Hall/Theatre Royal and connected Open Air Picture Theatre in Brisbane Street, on the current CH Boutique Hotel corner. A side door connected the two structures.
The Picture Theatre had both gallery and floor levels, with a total seating capacity of 2000. Original admission charges were one shilling for gallery seats and sixpence for floor, children 1/2 price. Competition from the original 1927 Capitol Theatre across the road, who were showing the first 'talkies', eventually relegated the Open-Air Theatre to dancing, mini-golf and skating. Later in 1939 our Regent Theatre opened on the Brisbane St/Kable Ave corner. Many of us will remember the huge line-up there for the screening of 'Crocodile Dundee'.
Charlie Ison died in 1922, leaving behind a considerable legacy in our town.
Mike Cashman – Tamworth Historical Society