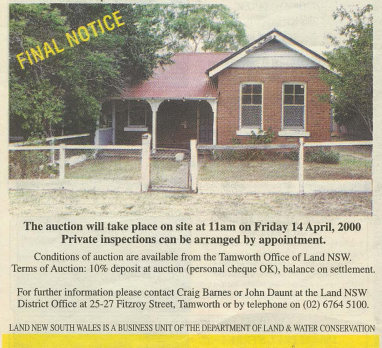 TRC planning proposal for 4 Darling Street is currently on exhibition. Submissions close 14 March 2023.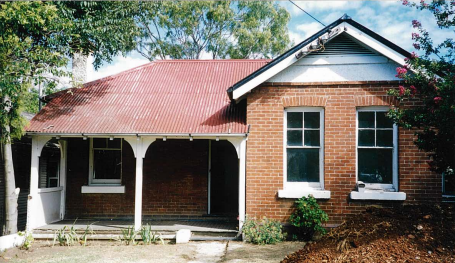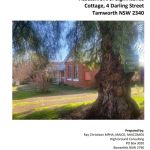 We are publishing information on 4 Darling Street below, compiled by Joan Wakeford. Included is a letter you may copy or download if you wish to use in your submission. Submissions may be made at https://pp.planningportal.nsw.gov.au/ppr/under-exhibition/4-darling-street-tamworth
Dear Friends
The above link is where you can support Tamworth Regional Council's proposal to list 4 Darling St within Schedule 5, Environmental Heritage, Tamworth Regional Local Environmental Plan 2010. If the property is listed, any future development of the site will be assessed against the relevant state and local heritage planning controls.
Here are some notes on the history of the cottage at 4 Darling Street:
1898 – The BUILD: after Intense community agitation about the Courthouse caretaker's "unhealthy" quarters, next to the stables. The 2-bedroom, double brick cottage was built, with generous slate steps, Queen Victoria iron ventilators, quality cypress pine flooring. Like the Court and Watch Houses it faced Darling St, unlike the previous caretaker's back 'room'. Together these 3 buildings at 2, 4, and 6 Darling Street form Tamworth's historic police precinct. Here, all Court cases were heard between 1861 and 1937 – and prisoners confined before trial.
1937 – After relocation of the Tamworth Court House to Fitzroy Street, close to Police Barracks, the Court caretaker's cottage and the Court House were let to one of the first Police Boys Clubs in NSW. Police and community volunteers trained boys to box, play brass instruments and formed a champion Brass Band. Hundreds of boys came. The Court House exterior was extended- several times. The PCYC managers occupied the cottage at No 4 Darling Street.
1951 – 1974 An eminent teacher, Bill Surtees (First Apex citizen of the year) leased the cottage. His wife sewed uniforms for PCYC boys. His son Ron, a notable sportsman, was also awarded Tamworth Citizen of the year.
1980 – 1992 – In 1980 The Tamworth Women and Children's Refuge moved to 4 Darling Street and it was extended. The refuge had outgrown a private home in Fitzroy Street since started by volunteers in 1978. Records show approximately 4 thousand women and children needed to find refuge here. In 1992 the Refuge moved to Government purpose-built housing and the cottage was used for medium-term accommodation. By now the cottage needed renovating, but the structure was sound. 2002 – NSW Government put 4 Darling Street on the market. The newly extended Billabong Clubhouse at 6 Darling Street was able to buy the cottage with a legacy of $100,000 from a benefactor, Brian Crittenden, a rural worker in Moree. Radio interviews of families in Tamworth, calling for services for the area must have reached Brian as he did not visit Billabong before his death in 1999. The cottage is named Crittenden Cottage.
2002-2004 – Renovation of 4 Darling Street. An Engineer, Malcolm Crocker led a team of volunteers to restore the sound double brick cottage. They had to replace storm water, gutters, restore original windows, sand flooring, repair damaged plaster, plumbing, paint work and land scaping (by Don Smith). Fundraising – jazz concerts raised money. Tamworth businesses supported the work generously and a team of 3-6 volunteers worked daily till it was finished.
2002 – 2022 – Crittenden Cottage provided affordable accommodation for people from outside Tamworth, particularly rural areas, to access mental health services in Tamworth. The cottage was used by people from Moree, Armidale, Newcastle, Bingara as well as visiting Clubhouse accreditors and even an International Clubhouse Director. By 2022 the need for accommodation appears to have been met by NDIS funded plans and the Cottage was auctioned on 24th February.
You may use the following in your submission if you want to. (Written by Joan Wakeford)
I wish to support the listing of 4 Darling Street in Tamworth Regional Local Environmental Plan 2010:
4 Darling Street was built in 1898 for the Court caretaker of the 1861 Tamworth Court house. It gave the caretaker a family home instead of a single room near the stables, considered "unhealthy". It is one element of the justice precinct on the corner of Peel and Darling Streets. The two former Court Houses faced first, Peel and then Darling Street. The Court Houses can still be recognised inside the PCYC building. The third element of the police precinct is at no 6 Darling Street – the former Lock-up keeper's house, now owned by NSW Health.
After Tamworth Court moved to Fitzroy Street in 1937 the house at 4 Darling Street has had continuing historical associations with the work of Tamworth organizations:
The Managers of Tamworth PCYC occupied it from 1937 until 1951.
The family of prominent school teacher William Surtees lived there until 1975. William and his son Ron were each recognised as Tamworth Citizens of the Year for services to the community. Eileen Surtees sewed uniforms voluntarily for PCYC boys.
In 1980 it became the 2nd home of the community based Tamworth Women and Children's Refuge. The building was sensitively extended with 4 bedrooms. In 12 year's occupancy approx. 4,000 women and children used the refuge.
From 2002 to 2022 the cottage was used to support the work of mental health rehabilitation for people from rural areas through Billabong Clubhouse. The families of members of Billabong spent 2 years completely restoring the cottage, with help from businesses, community fundraising and voluntary work.
The house at 4 Darling Street has Local Historical, Historical Association and Social Significance and Representativeness for the community and history of Tamworth. It is part of an historical area which is largely unchanged since the first settlers – the Community Centre is opposite. It was built to be Tamworth's Municipal Council in the same period that 4 Darling Street was built.
This cottage is clearly significant to thousands of past and present Tamworth residents. [scroll down to click/tap on article/words 4-Darling-Street-Tamworth to OPEN and copy & paste in the submission.] Go to NSW government website to make a submission by clicking/tapping on red https://pp.planningportal.nsw.gov.au/ppr/under-exhibition/4-darling-street-tamworth